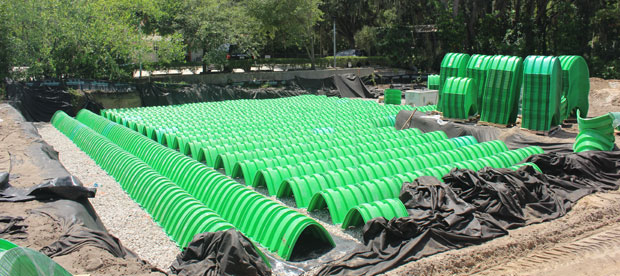 Our engineers are ready to work with you!
For information on all Triton products, contact our sales team on the Xerxes website.
Triton Stormwater Solutions has been acquired by Xerxes and these products are now part of Xerxes' HydroChain™ Stormwater Management product line. For more information, see the HydroChain™ section at xerxes.com.

Lighter Our stormwater chambers are 46% lighter per cubic foot of storage. Watch Video

Greener Triton Stormwater Solutions Chambers use an eco-friendly soy-based resin and require less land, due to superior design. Watch Video

Larger Up to 46% larger per linear foot than competitive stormwater chamber products. Watch Video

Cost Effective Triton Stormwater Solutions Chambers are less expensive to ship, take less time to install and are delivered factory-direct. Watch Video

Stronger Third-party tests validated Triton Stormwater Solutions Chambers withstood a rear axle load of 48kips with little to no deformation. Watch Video

Easier To Install The lightweight design allows for one-person installation and reduces the fatigue associated with installing heavier products.
Watch Video
Triton Stormwater Solutions: The Comprehensive, Low-Maintenance Underground Stormwater Solution
Stormwater management is one of the greatest challenges facing site developers and municipal governments. Properly containing sediments, contaminants, and surface runoff is essential to meeting environmental regulations and creating world-class projects.
Now, with Triton Stormwater Solutions, developers have the tools they need to meet these demands with an easy-to-use underground system that saves time and money.
The Triton Stormwater Solutions system combines eco-friendly materials with an ultra-durable yet lightweight design that is easy to install and maintain. It also saves on space, since the Triton chambers can be used in a two-tier, stacked configuration in many applications.
See The Triton Stormwater Solutions System At Work
Provides a lower cost alternative to drainage pipes for conveyance, with added benefits of groundwater recharge and water quality enhancement.
Eliminates the need for costly pre-treatment devices.
Eco-friendly soy-oil based and carbon-neutral product.
Eliminates need for restrictive holding ponds and creates new opportunities for green space with unique underground capacity.
Achieves up to 18 LEED credits and Zero Discharge goals.
Latest Case Study:
Severn Trent Water
Following an evaluation from the New Products CoP Group Waste team of Severn Trent the stormwater management system by Triton Stormwater Solutions has been approved for use within Severn Trent on both AMP 6 Capital Projects and Developer Sites. The first project to be undertaken with Severn Trent was Radleigh Homes latest development of 20 new dwellings in Awsworth, in the Broxtowe district of Nottinghamshire. The Triton system was designed to attenuate up to the 1:30 year return storm event providing 60m3 of stormwater storage. The system was installed by Bridgebank Limited, on behalf of Radleigh Homes, and took only two days to install from excavation. David Cleveley Managing Director of Triton Stormwater Solutions UK limited 'Triton is the next generation of Stormwater Management System, providing a maintainable, stronger and cost effective solution with a longer life. It is a great accolade for Triton to be recognized by one of the UK's largest Water Authorities. We are looking forward to providing the Severn Trent team and it's customers with stormwater management solutions for future sites throughout the region.
Read More
View All Case Studies